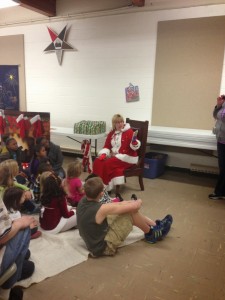 December 1st we held our Christmas party at the lodge. Friends, family, neighbors and all our brothers and sisters in the lodge were invited. This year we had a very nice turn out. Overall we had more than 70 people there.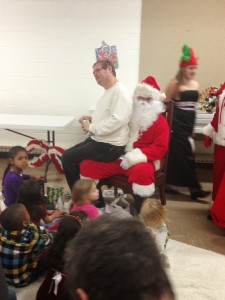 Before Santa came down Mrs. Claus read a story to the children and then they sang a few Christmas songs. Then came time for the big guy to come in.
We had over 20 children this year. After the presents we had a piñata that they all loved taking turns trying to get the candy out of. I only wish that I had got a picture of that.
Thanks Sherri
So all in all we had a very good turn-out for the party. Kathy and I spoke a couple weeks ago and she hadn't received any RSVP's for the party and didn't know if we would continue it if it was only going to be a couple of us there. Thank you for everyone that showed up. I know the kids loved it.
On a last note, we didn't have a Santa due to brother Bill not feeling up to it. I was asked to fill in and I have to say I had my reservations about doing it. But after it was all said and done it was great to see the smiles and excitement on the little ones faces. A big thanks to Kathy for putting it all together and making this a success.